• Do you wish you could find a way to get what is in your heart and your head to come out of your mouth in a clear concise way?
• Do you wish you knew how to have a difficult conversation without being emotional?
• Do you wish you had the confidence to stand up for yourself for once?
Give yourself the gift of communication, and let this be the year you finally know what to say and how to say it! Please join Tami Evans for an interactive presentation to answer these needs and gain easy tools you can use immediately. We will laugh a lot, sweat a little and everyone will walk out feeling empowered personally and professionally.
You will leave this presentation understanding:
How to avoid the ladder of inference
How to identify observable behaviors
How to have a challenging conversation
How to stop a rumor
How to give feedback
How to express dissatisfaction and request a solution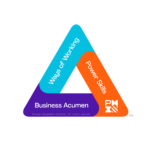 PMI Talent Triangle: Power Skills (Leadership) [ PDU]