Standing Up Our Strategy Delivery Office as a New PMO Leader
In 2021, the American Planning Association decided to train a cohort of project managers to carry out the Board of Directors' top priorities, with a framework of a lot of legacy processes and operational baggage. Over the next two years, the organization managed to re-set the Board's expectations about what could be accomplished, and focus on transforming how the staff team collaborated with each other.
Mike is one of the many IMPACT Engine System and IMPACT Accelerator Mastermind program participants speaking this year. Don't miss this stellar session where you'll see just how much IMPACT these programs have helped our participants make over the years.
We are so incredibly proud of Mike!
Strategic Leaders Deliver Value: Learn the Secrets to Lead in a Virtual World
In this session, you'll: 
Learn how to deliver strategic value in your organization

 

Discover the key to leadership competencies and behaviors for strategic leadership as a PM

 

Gain insights into strategic approaches in the digital world

 

Unpack the secrets to leading successfully as a strategic leader

 

Discover new findings on how AI can help you deliver value in your organizations.
Throughput Accounting: The Missing Link Between Vision, Strategy, & Execution
We often hear Project Management Office (PMO) leaders lamenting, "Despite my best efforts, I can't seem to improve project management." Equally, senior executives voice their concerns saying, "Even after implementing a PMO, our delivery capabilities haven't improved." It's indeed frustrating. The advent of Agile promised a panacea, but senior leaders are now knocking at our door saying, "After investing millions and restructuring into smaller teams and value streams, the situation has worsened – only costs have increased!"
The crux of the issue is that most PMOs don't make a significant impact. They focus on promoting processes, methods, and generating reports, attempting to enforce governance – but there's a lack of genuine value creation. This core value creation remains the prerogative of those who handle Profit & Loss responsibilities. Agile is doing the same – just with more costs.
It's simple – if you're not adding value, you won't be valued. Without being valued, your capacity to effect meaningful change diminishes drastically.
The mandate for PMOs is clear – they need to offer a unique value, something unparalleled within the organization. But the million-dollar question remains – what could that unique value be?
Maximize Your Strategic Luck
Only a fool leaves their future to chance. Get ready to level up the luck in your organization and your life with the international bestselling author Jonathan Brill, whom HBR recently called, "The World's Foremost Transformation Architect" and Forbes ranked as its #1 futurist.
In this fun and compelling talk, Brill will unveil three competencies to maximize the likelihood of things working out and help you navigate the unpredictable waters we face today. You'll learn to be even more adaptable, strategic, and collaborative – skills that can help you turn uncertainty into a strategic advantage. So, let's get lucky! Join Brill and discover how to strategically create your own luck and thrive in our time of radical change.
Strategic Excellence – Closing the Chasm Between Planning and Execution
Do your annual plans and goals fall short of success, each and every year, in some way? Does it take heroic efforts to wrangle the masses, to achieve all your dreams and milestones? Join our special guest speaker, Kevin D. Martin, to learn simple yet amazingly impactful solutions, to the complex and ever-changing chaos of the work we all do annually, to achieve success. Bring those difficult situations that frustrate and confound you, year after year.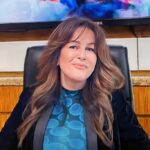 Dr. Mona Zoughaib PhD, PMP, PMI, ATP
Co-Founder and Managing Partner,
We Grow Minds
Tales From the Field: Illuminating PMO Practitioner Experiences
In this engaging session, Dr. Mona Zoughaib, a renowned Project Management expert and speaker, will share valuable insights and practical strategies for unlocking PMO excellence and driving successful project delivery. Drawing from her extensive experience in the GCC and MENA region, Dr. Zoughaib will delve into the key factors that contribute to PMO success, including effective governance, strategic alignment, and fostering a culture of collaboration.
In 'Tales from the Field: Illuminating PMO Practitioner Experiences', Dr. Mona Zoughaib draws from her significant tenure leading PMOs at esteemed organizations such as Fransabank and Middle East Airlines. She will share her unique journey, illuminating the successes, challenges, innovative solutions, and valuable lessons learned along the way. These insights will bring to life the realities of running a PMO, shedding light on the strategic decisions, adaptive leadership, and resilience required in such roles. This session promises to be an invaluable resource for both budding and seasoned PMO professionals, offering a rare glimpse into the first-hand experiences of a seasoned PMO leader.
Strategy, Execution & Managing Change
This presentation will explore key considerations for managing mega-projects, including how to effectively align project goals with organizational strategy, what project management practices to implement, and the importance of managing change throughout the project lifecycle. We will discuss the importance of technical aspects of Project Management, like establishing a robust governance structure and defining clear project objectives to ensure that mega-projects are delivered on time, within budget, and to the required level of quality, but we will also examine the challenges of managing Change in mega-projects and explore strategies for effectively communicating with stakeholders, managing resistance, and ensuring that project outcomes remain aligned with organizational goals in an ever changing business environment.
The Importance of Applying a Strategic Perspective Using Project Management
Discover the transformative potential of strategic project management in this engaging session. In this interview, Willetta will share her role, challenges, and "ah-ha" moments. Learn the keys to their success and gain valuable insights for your own journey. Explore the IMPACT Engine System and IMPACT Accelerated Mastermind Group Coaching for a powerful boost to your project management skills.
We are so incredibly proud of Willetta!
Transformation through Design Thinking
By methodically putting equal emphasis on the hard and soft elements of leading change,
organizations can more than double their odds of success
(Colin Price & Scott Keller
– Beyond Performance 2019)
Transformation through Design Thinking: ensuring business objectives are achieved by collaboratively designing and implementing a strategy with customers and employees.
START YOUR JOURNEY NOW
Get access to all of 2023 summit content and our top 200 from prior summits with no expiration date.
VIP + 200 On-Demand
BEST OF SUMMITS EXPERIENCE
1 YEAR Access to 60+ Sessions
Watch ALL Training Videos
ALL Action-Taking Resources
Speaker Presentations
PDU Certificates
Course Transcript
Bonus Resources and Discounts
Get 200 of Our Favorite Sessions From Prior Summits